We're now fully set up to take your next event, seminar or gig online with an edited live multi camera streaming shoot…
When lockdown came into effect and every live event we were lined up to film was cancelled, we realised things were going to change for the foreseeable future…
We soon started to see a growth in the use of Zoom for video calls and conferences, seminars and conferences going virtual and taking place via online streaming, music events streaming online and the audience watching from home…things were incorporating video more than ever to enable them to still happen.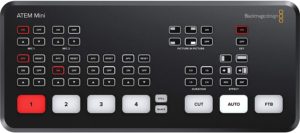 Around this time, we saw the Blackmagic Atem Mini Pro was releasing and decided we needed it for our in-house equipment line up!
This little device enables up to 4 cameras or a mix of cameras and laptop/ipad/etc feeds to be inputted and then live edited and streamed online to your site of choice.
With so many events turning into online events, this equipment enables us to offer a way of taking your event production up a level. So rather than a zoom seminar, you can do a professionally filmed and edited stream. Rather than filming a gig on a laptop, you can recreate that feeling of watching a show with multiple camera angles, edited live.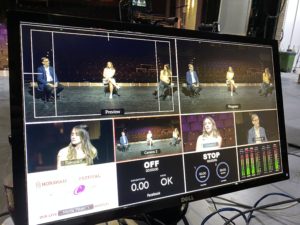 Some of the features of the setup include…
The Atem Mini Pro can have 4 cameras run into it live and these can either be static or manned by camera operators. Your event could be filmed by just a single camera or be fully covered with operated cameras and have the option of talkback between the director and camera operators, meaning they can be given instructions for what to film and when, enabling perfect shots to be got for the stream.
You can drop a camera and have an input from a laptop to have a separate feed of a PowerPoint presentation, pre-made video content, photo slideshow etc which can be cut to when required or used with the Picture-in-Picture option so you can be still seen whilst talking over a full screen image of the content.
Pre-loaded images can be added to the Atem Mini Pro and cut to during the live stream for example if a new speaker is coming on stage, a screen can be cut to during the switch over on stage.
You can record a copy of the TX (transmission) edit which is streamed so it can be used on other sites, edited into other content etc
We recently used the setup to film and stream singer/songwriter Tim Newman at The Rec Rooms in Horsham.

With all live music performances cancelled, The Rec Rooms needed to find a way of keeping their events going and keeping an income stream flowing. By streaming the performances, they achieved this. Most shows were either mobile streams or Zoom recordings but this shoot with Tim Newman stepped up the production levels and offered a fantastic online show to the audience.
We also used the setup for the launch of our Horsham Film Festival 2021 with a live chat which was covered by 4 cameras, one on each speaker and a wide shot, edited live and streamed to an audience on Facebook, asking questions for the panel during the event.

We have the cameras in-house and the streaming solution to take your next event online in a frankly awesome way.
There's a couple of options we can do with set ups depending on your budget, with a minimum two man crew to set up and run all the equipment.
Read our Live Streaming document HERE which details the options for set ups and costings.
So if you'd like to discuss covering your next event or even turning a planned event into a filmed virtual one, get in touch and let's talk!