Welcome to Horsham Time Well Spent
The Horsham Time Well Spent remit is promotion of the town, it's shops and activities and with a strong family angle to all the goings on in the town, the creation of the Symes family seemed a natural fit to help promote things.
With 14,000 Facebook views to the first video and to date, 18,000 to this Valentines video plus local press coverage, the family has been well received and the videos a success.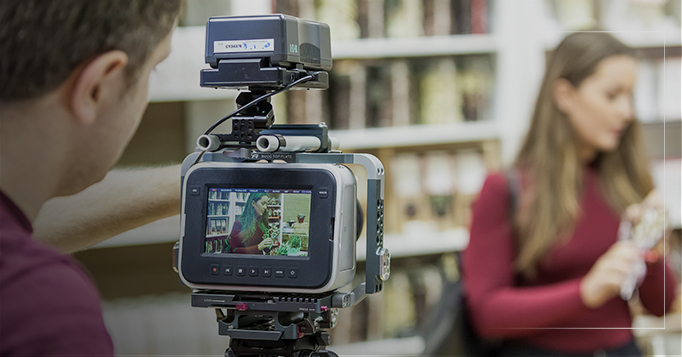 discover more
Horsham Time Well Spent is the town centre events brand that operates in the heart of Horsham.
We've been working with Horsham Time Well Spent to produce video content since 2015 and had big online success with a series of event promotional videos featuring the fictional Symes family – read on for more information.
In 2018, we produced a video to promote new artwork created to add life and colour to either entrance of the tunnel which connects the town to the park. Local artist Katie Wells created the Townies and Parkies characters and we interviewed her about them and the tunnel project. Alongside that, we digitally animated her hand painted characters and put them into live action footage shot for the video. See this video at the bottom of the page.
Following on from our initial video for HTWS, we developed a different approach to the video requirements by bringing a narrative element into them and the creation of a family.
Horsham Time Well Spent (HTWS) is a division of Horsham District Council and is responsible for the events programme which takes place in the town and surrounding areas across each year.
This programme covers things like the epic Piazza Italia event, now in its 11th year – food, fun and fast cars across three days in April – the Plum Jam event, Ameri-car-na and many others.
Part of the remit of the team is to create content to promote the town events and one way of doing this is with video – which is great news for us.
In 2015, we shot a short promo featuring Louise Freeman as a shopper visiting Horsham and taking advantage of the Click and Collect services in stores across the Black Friday weekend.
The idea behind featuring an actress in this video was that it enabled us to tell a story and showcase various things in a natural but also interesting way, without solely relying on text or a voice over.
The video was successful and in late 2016, a plan was developed to create further videos in which Louise would return but this time she would be joined by a family to enable us to appeal to each of the different audiences that HTWS creates events for.
So her husband John McIntyre was joined by their teenage daughter Imogen Eden-Brown, their younger son Mattie Boys and, naturally, Gran played by Heather Skermer.
The first video the family featured in was to promote Christmas shopping in Horsham, late night shop openings and various other events. The family were introduced via a "Meet…" video which had shots of each member alongside their name.
Amassing 21,000+ Facebook views between them, a second, Valentines themed video was commissioned in which the family visited various places in town who would be involved in promotions for Valentines Day in 2017.
This led to discussions about how to promote the upcoming Piazza Italia event and we decided to do apromo featuring just the kids – Imogen and Mattie – as they took part in a Sporting Bears charity Dream Rides event. This charity appeared at Piazza Italia and you donated to the charity to get a ride in a supercar of your choice. Filming in a Ferrari California was certainly a fun day!
Following on from these, we took the family to the Piazza Italia event to create post-event promotional videos to showcase the family angle of it. The boys featured in one video and the girls in another, with cross over elements in each when they join up for activities.
Looking at almost 70,000 views on Facebook alone across all of these videos is a great response, one which we, and HTWS are very happy with. Within the videos, we have featured a large number of local businesses, all of whom have benefited via the featuring in these videos. It's been great to work with these businesses to help them with the power of video and enable them to reach a wider audience as part of an ensemble piece.
The family have also featured in the promo video for the debut of the 2017 Ameri-carna event which, much like Piazza, featured a huge number of cars but with a classic American focus to them.
It's clear the videos are engaging with people on social media and doing their job to promote the events within the town. I believe the personality-based approach with characters everyone can relate to has given these promos a different angle to the typical style this content has to it.
It's been really enjoyable to work on these videos so far, not least with the great group of actors appearing in them but with the team at Horsham Time Well Spent as well. Between us, we develop the ideas and content for each video and it has become a real team effort.
We're looking forward to seeing what the Symes get up to next and hope their audience are too!
december daze music video
For a live event quote, please email us on

[email protected]

or Contact Us and we will then get back to you to discuss the project in more depth.