Aerial filming with drones is cameraman Jerry Laurence's' speciality. Find out more about our work with him as part of the Bluecoat Sports project…
I've been working as a director/cameraman for many years, and took up aerial filming a couple of years ago after seeing the kind of footage you can get just with a GoPro attached to a DJI Phantom quadcopter. So the first thing I did was to buy a cheap toy quadcopter to practise flying around my house. When I could fly in and out of rooms without crashing every few seconds, I bought a Phantom. Six months later I took the plunge, got my wallet out, and signed up I for a course to get my CAA permission for aerial work.
The CAA PFAW is essential. Apart from the fact that you can't legally operate commercially without it, you won't get public liability insurance. So anyone hiring a 'rogue' operator is taking an enormous risk.
When I met Geoff at a film makers networking event earlier this year, and showed him some examples of my work, he commented that I 'had an eye for a shot'. This was nice to hear as I believe my experience as a video maker, combined with my newly acquired flying skills, must offer a strong combination. Judging from some of the footage I've seen, there are lots of drone operators out there who can fly, but don't know how to string shots together.
The Bluecoat Sports project was my first opportunity to work with Geoff, so it was important that he would respect the CAA regulations and be willing to work within them. I needn't have worried. Geoff absorbed all the legal constraints and appreciated the need to spend time planning jobs and doing the required paperwork.
After giving me his brief, Geoff and I met at Bluecoat Sports for a recce. Visiting a site before the flying day is a vital stage of the process, as it enables me to do a full assessment of the possible hazards and to satisfy myself that the job can be done safely. So, at the Bluecoat Sports recce, we were able to work out a plan for a range of shots which would work both creatively and legally. We then had to get the cooperation of the Bluecoat Sports team, which wasn't a problem, and they were happy to provide assistance where necessary.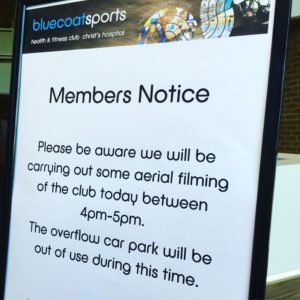 Most of my commercial work is done with my DJI Inspire quadcopter. Not only is it a great flying machine, it also allows me to use automated flight software. With my iPad, Autopilot and Google maps, I can create and save flight plans. I can then show these to clients before the shoot and modify them if necessary. It also means we can repeat the flights whenever we want. Best of all I can get really smooth shots, perhaps not previously possible as a single operator, which means I can provide high quality aerial footage at an affordable price.
The Bluecoat Sports job went smoothly. The weather was good, the staff were more than helpful, and working with Geoff was a calm and enjoyable experience.
And, of course, we got great footage.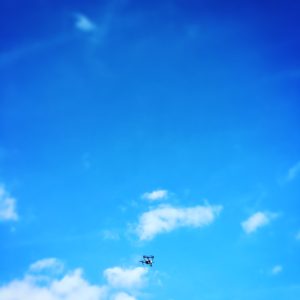 To discuss how to make the best use of aerial filming with drones on your next production, get in touch with us today!