When Jazz Mino got in touch and sent over her song "Suffocate", I was really impressed by the song – it's a cracking piece of pop music with an infectious violin based melody.
Jazz wanted to do something very different for her new video and I welcomed the opportunity to do something which wasn't just performance based.
We spent a while bouncing ideas around and developing a few different thoughts about what we could do, before settling upon the idea of three versions of Jazz, each one trapped in a situation they have to break out of – a visual reflection of the lyrical narrative.
Shooting Jazz running in fear in the woods and tearing off her old skin to reveal her new, brave one was the first scenario. From there, we went into what was, for us, a challenge and then, for Jazz a challenge.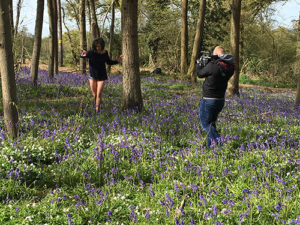 We had never filmed properly underwater before, except for some GoPro shots on the Thomas Cook shoots abroad, so for this video we suggested a segment of it be shot underwater, featuring Jazz struggling to swim before becoming stronger again and rising to the surface.
How would we tackle this though without a massive budget?!
We spoke to the guys (Kelly and James) at the Sussex Film Office and they helped track down a Lancing based scuba diving pool which we could hire for filming in – perfect!
Next, we needed a way to keep the Blackmagic camera from being destroyed and so James from Sussex Film Office helped track down an Ewa waterproof housing at a very reasonable cost. He also offered to shoot underwater for us, as he had experience in this area.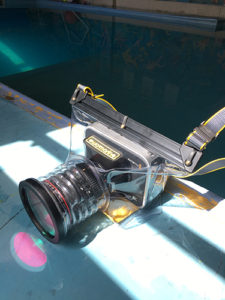 We got to the pool and put the camera into its housing and I tell you what – the moment you lower it into the water for the first time is nerve-wracking. Thankfully, it came out dry and survived the shoot! Jazz was really committed to getting what we needed – diving in repeatedly and sinking to the bottom when we needed her too. We shot some GoPro footage as well, to get some wider shots but generally used the Blackmagic.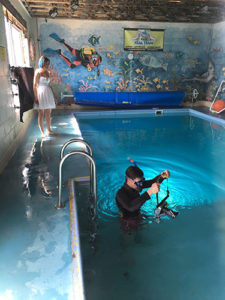 The next scenario we shot was Jazz trapped in a dirty old room, tied to the wall by a red ribbon – just short enough for her to not be able to reach the door handle and escape. However, with determination, she is able to rip off the ribbon and break into a joyous dance. This was the challenge for Jazz as she had never danced on camera before!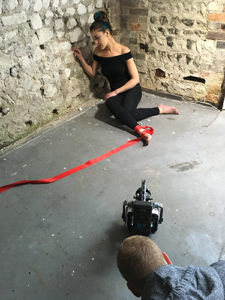 Upon wrapping day one, we got back together for a half day shoot the next day, for the performance part of the video.
Jazz initially performed in her usual style of outfit – brightly coloured and fun. But she wanted to also do a performance unlike any she had done before, so taking her inspiration from the T-1000 (perhaps not…) she got painted in silver all over by the wonderful Kate Griffiths make-up artist. Looking incredibly alien and weird, we shot some great poses, movements and performance from Jazz.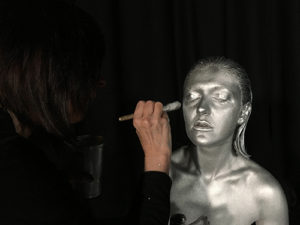 Putting the edit together was an enjoyable process, working out what sections of the song to cut to the different scenarios and when to bring in the escape and joyous moments, to fit with the rhythm.
I'm really pleased with the video and enjoyed the creative challenge and chance to do something different.
Here's to the next one!