Welcome toAMAZING KIND OF WONDERFUL (for THOMAS COOK)
2014 saw the launch of the new range of Thomas Cook adverts for their hotels and holidays, which starred James Nesbitt and featured a specially commissioned song "An Amazing Kind of Wonderful" which is performed by Christopher D Mitchell and written by Michael Bruce.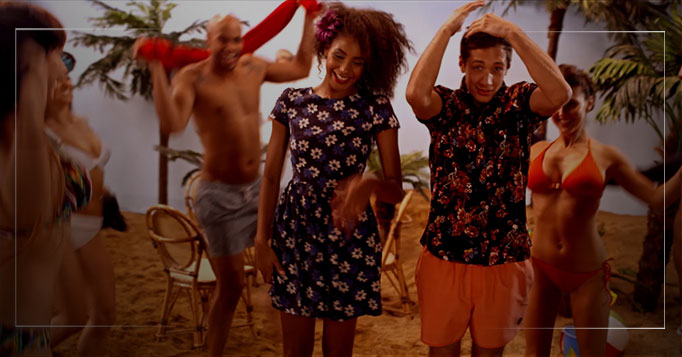 discover more
Thomas Cook came to us and asked us to pitch for the music video production for the song. We proposed an idea which saw the holiday hit the studio with a theatrical, lo-fi and off-beat feel to it. We wanted to do something different to the usual holiday themed videos.
We wanted to create something which was fun and lively with a bit of a sexy, summer edge to it and could cram the main elements of a holiday into the three minute run-time of the track and do it in an unusual and eye-catching way.
We think the result hits all of these goals!
We also wanted to create a strong visual style to the video and choose to shoot a sequence of steadicam shots which were linked by quick wipes across the screen, revealing the next scenario underneath.
The production featured 18 dancers from the former Rudeye agency including Billy Jaques from BBC1's Tumble and Britain's Got Talent.
This music video production was shot in 2K on the Sony F5.
Directed and Produced by Geoff Cockwill and Sacha Moore.
Director of Photography / Steadicam – Tom Blount.
Choreography – Charlotte Stevens.
Focus Puller – Jamie Touche.
Camera Assistant – Travis Dodkin.
Behind the Scenes Camera – Chris Carr.
Production Assistants – Kathryn Moll, Archie Guinchard.
Production Design – Jenny Selden.
Make Up – Grace Gray, Karen Starr.
Hair – Anjula Pindard.
Styling – Charlotte Stewart.
Dancers – Billy Jaques, Demi Mensah, Victoria Tansey, Dwain Allain, Wolfgang Mwanje, Kieron Providence, Roman Tio, Adam Frewer, Bo Tsoi, Ria Fuji, Vanessa Lansom, Bethany Rose Harrison, Bonnie Lockheart, Barney Banks, Tobias Mead, Kelechi, Lauren Clements Hill.
december daze music video
For a music video quote, please email us on

[email protected]

or Contact Us and we will then get back to you to discuss the project in more depth.