Welcome to My Baba
Leonora Bamford's My Baba uses web video content to help continually grow the position as one of the biggest parenting blogs in the UK. Featuring articles, interviews, reviews, tips, guides and more, the site continues to grow in popularity.
Making their first move into web video content a few years ago, My Baba recently had us film a series of childrens' hair tutorial videos. Since the success of these videos, we have moved onto recipe videos, presented by Leonora and various guest cooks, pram reviews, fashion reviews, interviews, event coverage, make up tutorials, car reviews and much more! Read on to find out about our work together…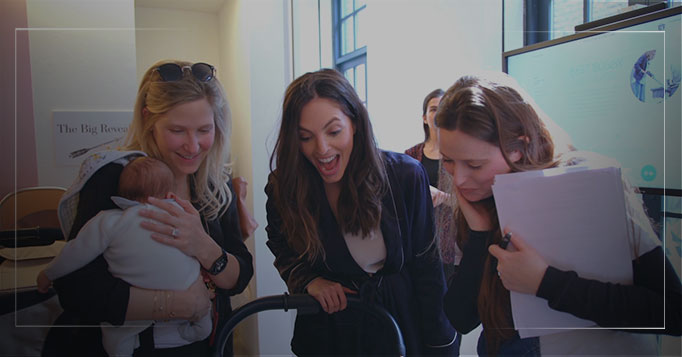 discover more
My Baba is one of the countries top parenting lifestyle blogs, filled with useful, interesting and engaging articles about all aspects of parenthood.
Run by Leonora Bamford and Ellie Thompson, My Baba has long used web video content as part out their output and we have helped with a large amount of this content and also enabled the team to produce their own, self shot content too.
Realising that there's a time for both professionally shot and self shot content, My Baba moves between both as and when needed to create their web video content.
Our work for them has included two multicam shoots of recipe / cooking instructional videos with Leonora, shot at her family homes. We've also covered events with them including Bubble in London and their team up with Mothercare for the Motherbaba Pushchair Party event which was attended by some of the UKs top parenting bloggers.
We've also filmed hair style tutorials for children, 5 minute make up tips for mums and shot interviews with fashion designers, authors and more.
On the self shot side, the team regularly does an "On The Sofa" vlog which they shoot with their phones, looking at and reviewing new parent and baby products. They have also heavily utilised self shot content as part of Ellie's video diary which chronicled her IVF journey which resulted in the birth of her and her husbands first baby.
Working with My Baba is always enjoyable as it gives us a wide range of project types to become involved with.
Here's a video testimonial with Ellie Thompson talking about the work we've done together…
december daze music video
For a web video content quote, please email us on

[email protected]

or Contact Us and we will then get back to you to discuss the project further.