Video Marketing Thomas Cook
We traveled to the Canary Islands with Thomas Cook and spent 8 days island-hopping, armed with two Canon C300s, a Movi M10 and a load of GoPros and shot a huge amount of footage across the 4 islands, covering everything from venue shots to camel safaris to water parks to zoos.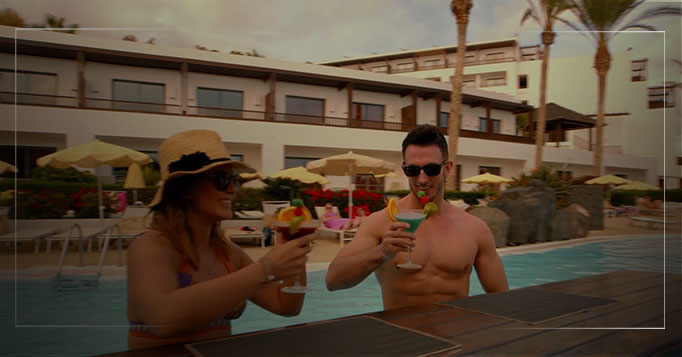 discover more
When global holiday travel operator Thomas Cook contacted us in 2014, it was because of our music video work. The initial response to their contact would be that they were looking for some sort of holiday based footage, however, it couldn't have been further from that!
They were looking to commission a music video shoot, featuring the specially written song used in their advertising campaign running at the time – perfect for us!
Directors Geoff and Sacha worked together to develop an idea which took the traditional concept of going on holiday but twisting the visuals and added a theatrical, over the top element to it.
Our proposal was that a couple go on holiday and we follow them from airport, to plane, to hotel, to beach, to under the water, and back to the airport. The story would be told with oversize carboard props and a large number of dancers – 16!
We brought a large team onboard to bring this project to life – dancers from the Rudeye agency, a production designer, hair AND make up artists, costume stylist, two runners, focus puller and steadicam operator.
We shot the whole video as a series of steadicam segments which would be "joined" by careful moves past the screen which wiped into the next shot. For example, a dancer walks past with a surf board, the edge of which wipes in the next shot.
The two day shoot at Millennium studios in Milton Keynes was enormous fun and the end result was sexy, fun and visually mad – we acheived what we set out to do.
Thomas Cook had also commissioned a second music video, to the same track to be shot. The two videos then went head to head in a public vote to find the most liked video. We won, which was amazing, and the video was played in-store, in-planes and in hotels around the world. It's quite a feeling seeing your work playing in high street shop windows!
Following on from our music video shoot, we undertook two shoots which were more "traditional" Thomas Cook content – a trip to the Canary Islands and one to Cape Verde. On both shoots, content was shot to make a number of videos to showcase the activities, action, relaxation and scenery at the different islands.
We shot a mix of Ronin shots for a professional, cinematic feel and a lot of GoPro based shots to give a more "holiday movie" feel to the shots. The shoots featured a director, director of photography, second cameraman and production assistant and the shoot lengths were 10 and 6 days a time. These epic shoots were really successful with the content being played heavily online in promotion for the destinations and in stores to further promote these holidays.
december daze music video
"We had a fantastic time on the shoot. I'm really excited by how everything looked, the atmosphere on set was fantastic. A true pleasure to be part of. Thank you for making us feel so part of it and involved. Working with you guys has been a dream."
Alison Sams, Former Head of Creative at Thomas Cook Group