Time for the Year in Review 2015…let's see what we got up to…
Time for another look back on our year at Silvertip Films with our originally named Year in Review 2015 – we've worked with amazing people, made work we are very happy with and achieved a fair bit. Let's step back in time…
This year, we switched to predominantly shooting in 4K with the Blackmagic Production Camera and grading with DaVinci Resolve. The Canon 5D had served us well for a good many years, but it was time to take a step up and embrace new technology. We love the image that comes out of the Blackmagic and the immense grading options that DaVinci offers us. The additional dynamic range the camera offers gives us a greater flexibility to shoot in a wide range of lighting situations as well. Whilst not as dynamically wide ranging as a RED, for example, or shooting in (an unnesseccary?) 8K, the Blackmagic is able to hold it's own against these "higher end" cameras and produce a comparable image.
But at the end of the day…what does it matter what you shoot with? It's about the content…
We've produced another wide and varied amount of work this year from music videos to corporate promos to motion graphics animations. We're incredibly lucky to have such variety in our projects and we wouldn't have it any other way.
Let's look at music first of all…
Our video for Shy and DRS featured Janet Devlin on guest vocals, for the track Beautiful to Me. This was the official single for Anti-Bullying Week 2015 and – excitingly – the single charted top 40 on the Official Charts and was also broadcast on MTV, VIVA and became VEVO approved. Telling a story about bullying whilst cutting to the performers, the video was a little edgier than our usual videos – take a look…
After working with Janet Devlin on the above project, we were commissioned to shoot her lead video for her December Daze EP which came out at the end of November and was front page of iTunes on the week of release. We shot a beautiful series of performance pieces for her and really captured Janet at her natural, beautiful best.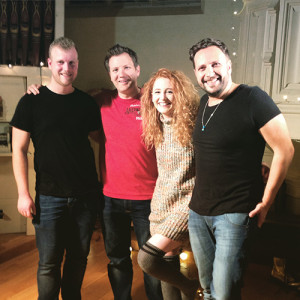 On set with Janet Devlin…
Si Cranstoun is a retro-styled singer / songwriter and at the very start of this year, we shot his music video for the lead single on his major label debut album. EastWest Records released Never Gonna Let You Go in Feb 2015. The video shows a dancer from across different eras, dancing to Si and his timeless music.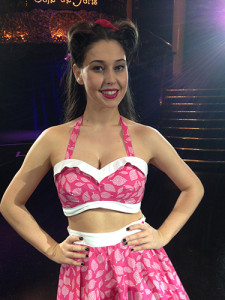 50s styled dancer Victoria on the Si Cranstoun shoot.
We also got to go to Ypres in Belgium to shoot a WW1 themed music video for singer / songwriter Michael Kelly. This song was written to celebrate the 100th anniversary of the First Great War. We filmed at recreated dugouts and trenches and at old battlesites plus the famous Menin Gate. Crafting an emotional story, intercut with a performance, we had a really good time making this video.
Runners up in this years X Factor – Reggie n' Bollie – went before the Silvertip cameras earlier this year when they were under their original name of Menn on Poinnt. If you watched the show, you'll know these two incredibly charismatic performers have a bright future ahead of them.
We also shot music videos for The Undivided, Lucia Nicole, Objayda and Aubrey Whitfield amongst others.
You might notice a lot of camera movement on these videos – we really stepped up our usage of the Movi and Ronin rigs this year to add a cinematic feel to them. Smooth, moving shots which add a real sense of dynamism to the videos unlike anything a tripod can get on it's own. An affordable option to a Steadicam – a Movi or Ronin is always worth considering for a shoot these days.
Josh in action with the Movi on the Undivided music video shoot.
We developed our motion graphics and animation work this year as well, producing a range of content for major record labels including Sony, Universal and Columbia for acts including Calvin Harris, Rita Ora, Amy Winehouse, Marc Kinchen and Status Quo. Everything from lyric videos to unboxing animations to pseudo videos got made by us for the clients.
Growing out of that area was the addition of motion graphic elements to our live action corporate videos – from animated logos to lower third name graphics to in picture visuals, we really pushed our game up here. Take a look at our motion graphics reel bellow…
We also covered a lot of conferences this year including the third year at CiviCon, our second at Symfony Live, our first at a Magento event plus various others. All events were multiple rooms with multiple speakers and cameras covering the action. Each finished talk was uploaded to YouTube for usage by the client, for people who couldn't attend the talks themselves.
In our corporate work, we produced new videos for companies like Little Notes and Woods for Learning who work extensively with children, educating them in music and the great outdoors, respectively. We also produced a range of ongoing content for parenting blog MyBaba including recipes, interviews and more. We produced promo videos for Horsham District Council, the Loxwood Joust, the Hollywood Special Effects Show (where lots of stuff blew up on stage!), Guildford Shakespeare Company, the Property Forum Awards and much more.
We developed our relationship with Charterhouse School further this year and started to produce new videos for their different departments, starting with a 2015 update of the sports video. We shot multiple days of sports action and also took to the skies with a drone to get some pretty epic shots for the promo as well.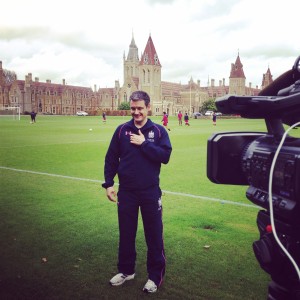 Shooting interviews at Charterhouse School.
We started work this year on an ongoing project, due to wrap middle of next year, for Show Racism the Red Card, which will specifically focus on their anti Homosexual, Bisexual and Transphobic bullying. These shoots will take us to football grounds around the UK including Arsenal and Man City.
Shooting for Show Racism the Red Card at the Brighton Albion Amex Stadium.
We shot a lot of recipe content for online parenting website My Baba which saw us film in London and Oxford area on numerous occassions. Not only did we work with the brilliant Leo Bamford but we got to eat a fair few tasty bits and pieces on the shoots and no doubt put on a few pounds at the same time!
With us at Silvertip ourselves, we moved office from Guildford to Horsham this year and are now located 55 minutes from London Victoria on the train or about 30 minutes from the M25. We still work largely in the London area but have been developing our relationships with local, West and East Sussex based companies now we are near to them.
We continued to produce our video production vlog, presented by Jessica Jay. The vlog goes from strength to strength and consistently has good views. It's become a great way for us to showcase recent work in a short, visual way.
Our team pushed themselves creatively on every project with Josh honing his Movi muscles and his DOP skills this year, Chris stretching himself as a Director and Pete developing new and interesting animations on each project and Geoff always aiming to try something new on a shoot.
We've loved our year, the work we've created and the people we've worked with. We hope next year brings a lot more of the same.
Will you be in front of our cameras?