This vlog production post was originally written in 2013 when we had just started our video production vlog. We thought it was due an update, so here it is…
Back in 2013, everyone knew about blog pages – you may even have had one for your business – but back then, VLOG (and vlog production) was a word that you might have started to hear more frequently and today, it's a word that is one of many video-associated words which are all over the net and in conversation.
A VLOG is a combination of video and blog and, naturally, VLOGGING is the term to describe actually making a vlog. A vlog can be a monthly, weekly or even daily video clip in which you talk, to camera, about whatever is on your mind. The same way you would in a blog…but visually.
The Silvertip Vlog
This is our latest vlog above, presented by Emily Beach. We started our vlog back in 2013 after talking with various people we knew and realising that being based in the visual medium of video production, we should use the format to condense our news roundup into a shorter, visually appealing piece rather than lots of text.
When offered the chance of a chunk of text or a short video covering the same ground – which would you choose? We know which one we would choose. Today, this is even more relevant with the power of video in search engine ranking.
Since we started our bi-monthly vlog – in which we show clips of our recent work and talk about our upcoming work – we have seen a good number of views on YouTube, increasing with each episode and on Facebook, a great number of views. The feedback has been good and we have booked work directly off the back of the vlog.
For us, the goal with the vlog was get the name out there, spread the news about our work and potentially win work off the back of it. We have achieved all of those goals to date.
One thing we have noticed is that the vlog on Facebook reaches a wide audience (5-6K views) but this audience has a shorter retention rate whereas YouTube has a smaller view count but a longer retention rate. This leads us to believe that viewers on Facebook are presented content they potentially like and they then choose to watch or not and on YouTube, people are actively searching the content to watch, based on their interests.
We are aware that people don't watch our vlogs for entertainment the way they might one about films or music but they watch to see what work we have done recently and what we have on. They want to see if we are busy and to get a quickly digestible, visual version of our news.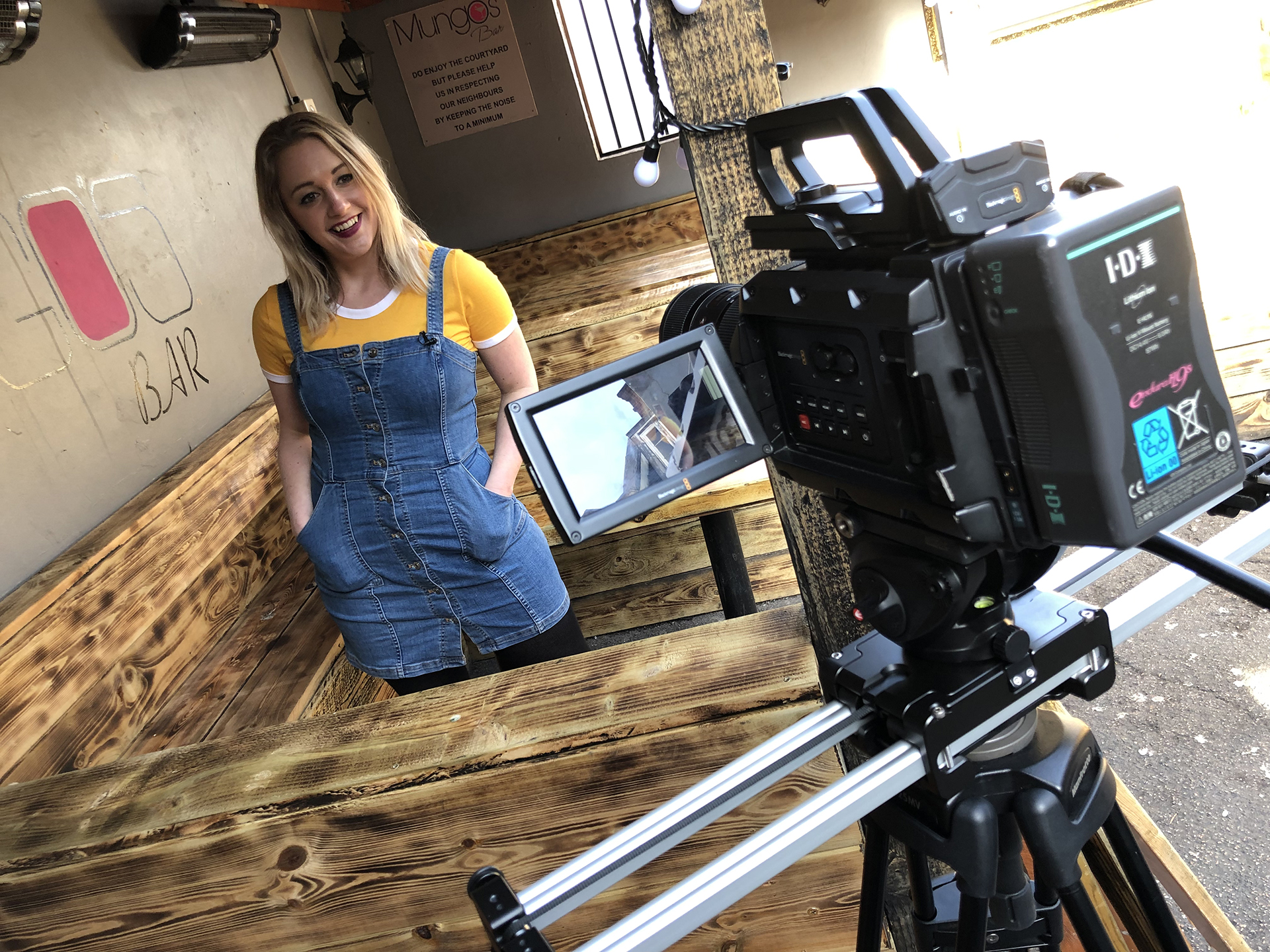 Shooting a vlog with Emily Beach in Horsham
What can a vlog offer you though?
If you run a business, you can post vlogs when you like and in them, you can talk about new products, new events, and new offers – whatever the core content of your business. If it can be verbalised and shown visually, a vlog would be a great benefit.
We shot a weekly vlog for Grand Prix Legends for over 3 years, each week; the presenters (which were a number of the staff) showed off the new diecast models that had come into stock. Each week people regularly tuned in, the videos received comments and it sparked debate on the company's forum. The vlog itself turned into a little comedy in a way with each member of staff having their own personality and bringing their own unique features to the vlog. Since then, we started shooting a weekly vlog for their new motorcycle protective wear under the MotoLegends brand. We have since started shooting a weekly news vlog for Horsham based newspaper The District Post as well.
Back in 2013, monetizing your video content on YouTube was easier than it is today (that's a blog post for another day) and currently, on Facebook, monetizing isn't possible. So will a vlog generate money for you? Maybe if you hit the YouTube requirements but is that directly what it is being made for? It certainly worked for Grand Prix Legends to showcase their new arrivals and get the inbuilt audience excited for new products and to drive sales – the main goal rather than earning via YouTube views. For the District Post, it has raised their online profile and spread their name further. Deciding whether increasing sales is important to you or making money directly off the vlog is a question to answer before you begin production.
Live Streaming vs Vlogging
Since we started vlogging, Facebook Live and YouTube Live as well as Instagrams IGTV have come along all of which involve live streaming of video.
We have utilised Facebook Live a lot in our work both whilst on shoots and in pre-planned sessions which go out at specific times.
There is a decision to make whether a weekly Live stream or a regular vlog would work well for your business or would both work? We approach the vlog as the showcase to potential new clients and the Facebook Live sessions reach out to an audience we already have. The difference in the production on each is tailored to the audience we want to appeal to.
Facebook Live seems to work well if you do the sessions regularly and keep them at a reasonable length – people don't necessarily tune in immediately so short sessions don't work too well in the algorithm to be picked up and put into feeds.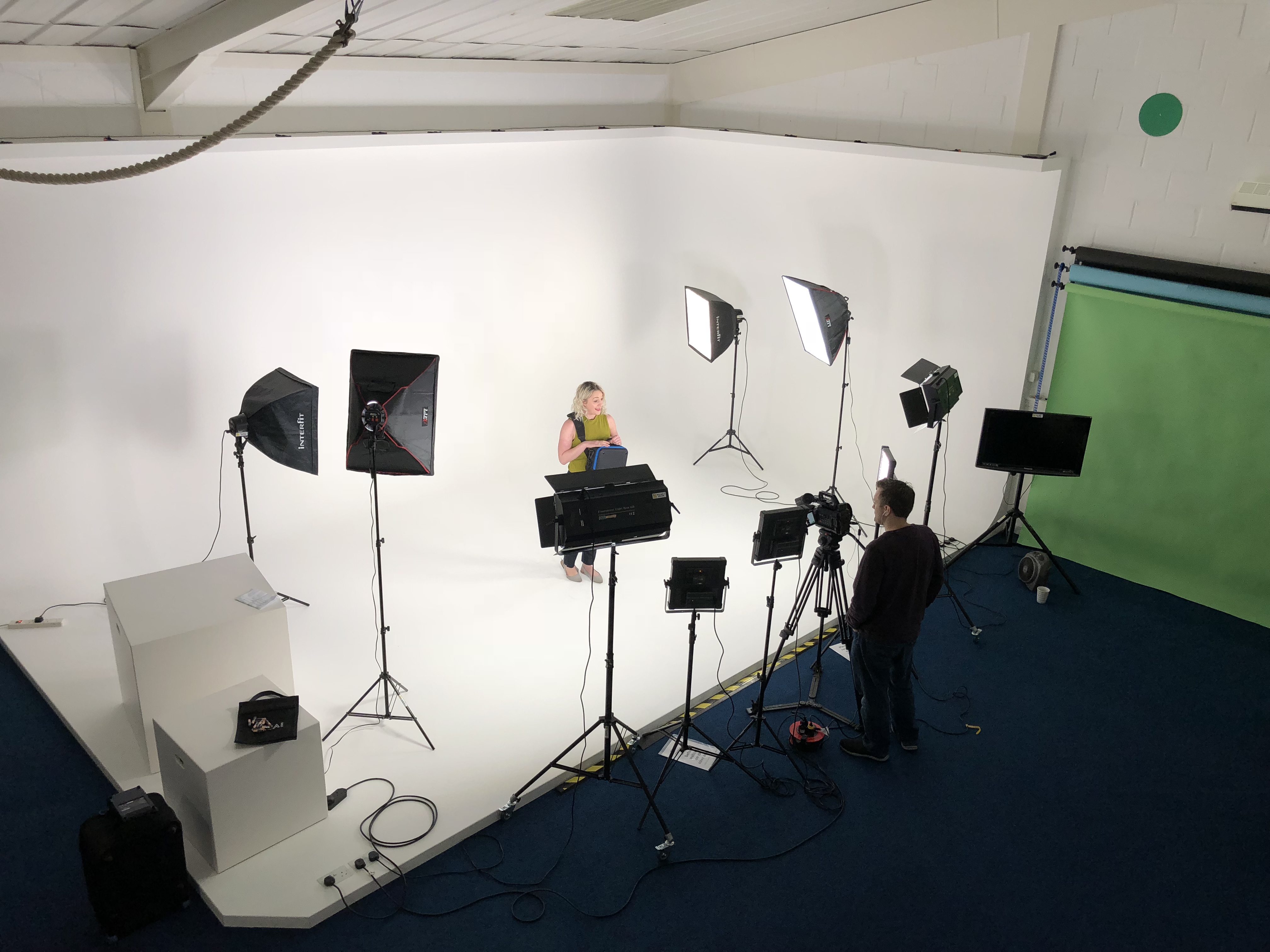 Shooting a vlog at Square 1 Studio in Dorking
Could something similar work for your business?
Why not try a vlog production for getting your information out to your audience?
A regular vlog about what's going on, new products, events you are at, guest interviews, news and so on would appeal to your audience.
Post the video on YouTube, embed it on your website and blog, directly upload it on Facebook – get it out there. If you can tag anyone involved in it, do it as it increases awareness. The more people you can get to see it, the better.
We can, of course, help shoot these vlogs – we run our own so know how to do them and do them well – but if you have a decent camera or even your iPhone with a plug in microphone then shoot it yourself and upload it.
Consider a Live stream as well, not necessarily instead of a vlog but as an accompaniment to one.!
Have a think and give it a go…if you want to talk more on vlogs, get in touch with us!