2018 in review! Another year passes and another few hard drives fill up with finished videos and raw footage! We've had a good year, let's look back at some of the highlights…
We've produced a wide range of work again for a wide range of clients – each one requiring a different video, a different approach and a full understanding of their business or event, what they need from us and how our video will fit into their marketing campaign. We often work very closely with our clients to collaborate and produce a video which really works for them, getting their message across and complimenting the rest of their marketing strategy.
A major event for us this year was our involvement in the Horsham District Year of Culture 2019 and us organizing and running the Horsham Film Festival as part of it. The HDYOC is a year long event incorporating and celebrating art, music, theatre, dance and film from within the Horsham District. We proposed an idea for a film festival, got the funding and set about arranging the festival. 500 entries later and early 2019 sees the Awards Show take place in late February! We can't wait to watch all the entries and make our shortlist. More info on the Festival HERE.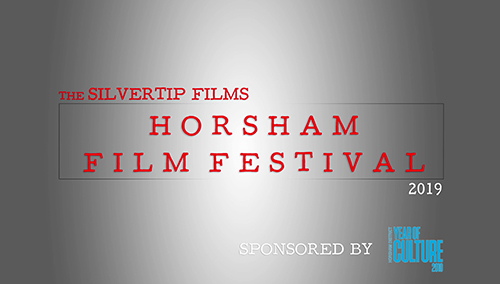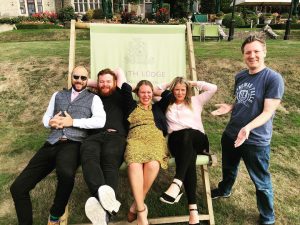 Davey Pearson – editor of the District Post and Festival judge, Mike from Silvertip, Lisa Brace from HDYOC, Sarah Aslin – festival marketing and Geoff from Silvertip at one of the years Facebook live events to promote the festival
Within our production work itself, our year was busier than ever which is great – video is truly taking it's place within marketing strategies and plans and growing every year both in volume of output and size of productions.
In our local area of West Sussex, we produced promo videos and additional web content for fitness businesses' Horsham Fitness and New U, furniture store La Residence Interiors and theatre training school West End Theatre Academy. Each business had a different requirement of their video and approach to how it was shot and, most importantly, what the content was.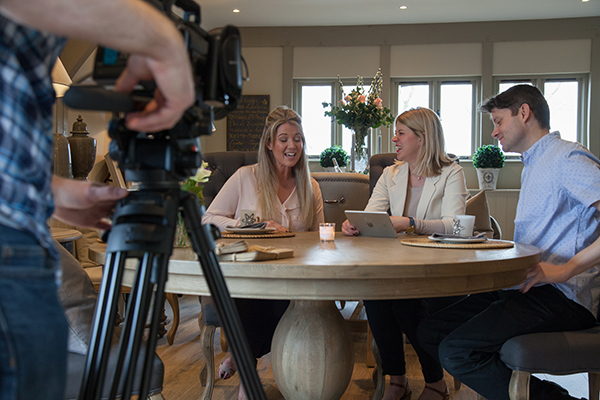 Shooting La Residence Interiors.
Working for Velocity World Wide saw us produce a lot of live event coverage for County Mall shopping centre including their Mothers Day and Easter events with the latter featuring Peter Rabbit appearing live! We also filmed a live music show in the mall, covered Love Island star Kaz Crossleys appearance as part of a competition prize. Our largest project for them was the Autumn / Winter 18 fashion promo and photography – we produced the entire video and photoshoot. You can read more HERE.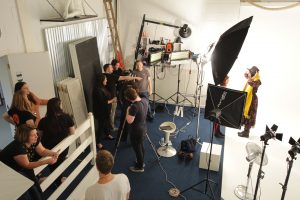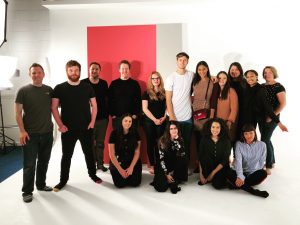 Shooting the Fashion video for County Mall and the Crew and Cast post-shoot
Work for St Catherine's Hospice continued with us regularly visiting the hospice in Crawley to film interviews with staff and patients and family members. The content was emotional and engaging and would often be re-cut into multiple videos to be useful in promotion of various topics relevant to the hospices' marketing output.
Throughout the year, we produced a weekly news vlog for the District Post newspaper, entitled DPTV. This show, presented by editor Davey Pearson featured news and interviews and location reports with local businesses and events. Plans to continue the vlog in 2019 are underway.
Our work for Horsham Time Well Spent continued as well with us covering Piazza Italia and the second year of the Ameri-Car-Na event – both epic days featuring enormous numbers of supercars and American cars respectively. The American event was so large we had a three man crew shooting all day to capture everything we needed! We also filmed a promo to promote a mural which was installed in town featuring artwork from local painter Katie Wells, entitled the Townies and the Parkies. The video saw specially drawn and animated versions of the woodland characters interacting with real footage.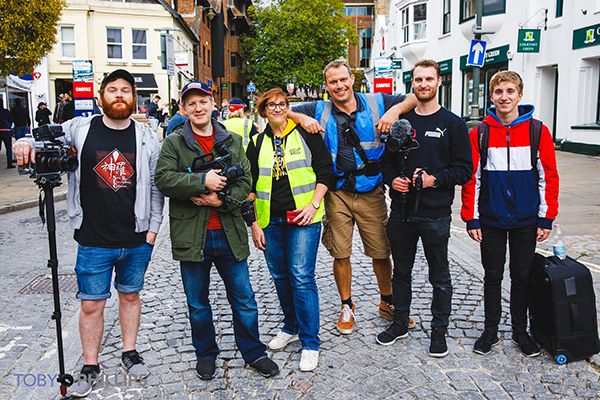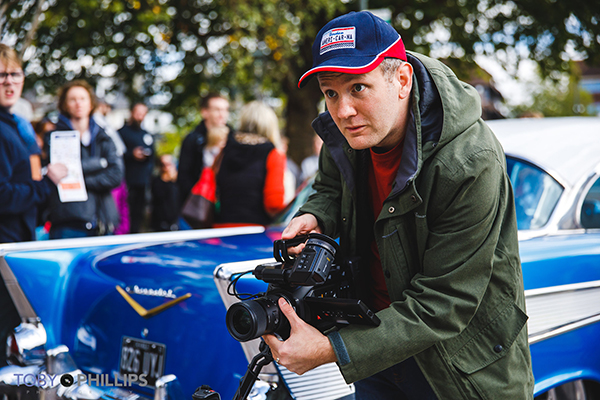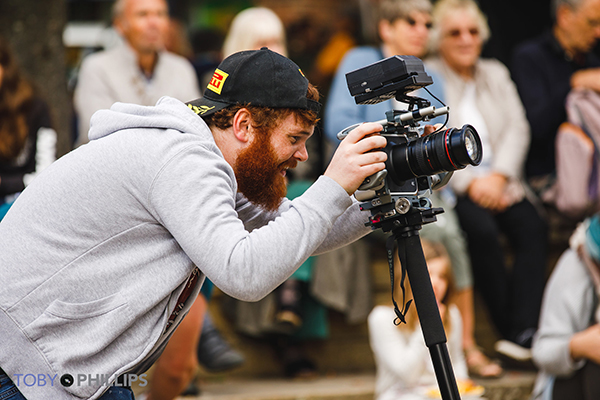 Photos from Ameri-Car-Na filming by Toby Phillips
Outside of the local area, we filmed our fifth Sony World Photography Awards, producing content for use on TV in Latin America. We filmed more interviews and vlog content for My Baba parenting blog, we also travelled to Ipswich for Velocity Worldwide to film a series of adverts to promote the new-look Buttermarket Shopping Centre.
Geoff, Chris and Mike shooting at the SWPA!
We produced more work for Guildford Shakespeare Company than ever before – they truly have seen the benefits of video in their ticket sales for their shows. We produced trailers and covered the dress rehearsals (to make show trailers) for Romeo and Juliet, Robin Hood, Loves Labours Lost and we made a special documentary on Lewis Carroll – author of Alice in Wonderland – and his connection to Guildford, to coincide with their production of Alice in Wonderland.
We also filmed interviews and rehearsal footage plus made a show trailer for children's theatre company Story Pocket Theatre.
Our work within motion graphics continued to grow, notably in the 3D unboxing animations and pseudo videos, with work being produced for both Universal and Sony Music. In the 3D unboxings, we completed work for Def Leppard, The Police and Mott the Hoople. Pseudos included George Ezra, Brother Leo and Amelia Monet.
We expanded our production equipment with the addition of an Edelkrone SliderPLUS X Long – this piece of kit gives smooth sliding shots with a track half the length of a usual one, but with the aid of a dolly head unit which it moves through, you get twice the length.
We also were lucky enough to be supported by Orca Bags and be sent a number of bags and equipment accessories to house our Blackmagic Cameras and lights in. We filmed a series of review videos with presenter Emily Beach for these, see one of them below.
Mike joined the production team more regularly this year and shot, edited and produced content throughout the year alongside Geoff. We worked with Chris and Martin as usual and added Neil to the team as well.
Geoff and Mike also did a number of talks for Farlington School which saw them speak with 4 classes of pupils, talking about their path into video production and challenging them to write a synopsis for a film, draw some storyboards and act out a scene!
As the year wraps up, we look forward to 2019 and seeing what work takes place, how we can challenge and improve ourselves and how we can make video work for new and existing clients.
See you next year!