We asked Matt Pinches from Guildford Shakespeare Company to film a customer video testimonial for us and he said yes!
Ever wondered how our clients use the videos we produce for them? Want to know what it's like working with the Silvertip crew? Interested to see how video could benefit you too?
Following on from our Customer Video Testimonial with Front of House Manager Sarah from Bluecoat Sports Health and Fitness Club – here's another customer video testimonial with Matt Pinches, Co-Founder of Guildford Shakespeare Company.
We have been making videos with GSC for over 10 years now! We have filmed trailers for their live shows with a single camera at the dress rehearsal, we have filmed full shows with multiple cameras, live streamed shows for an audience at home, filmed mini-scenes and bespoke trailers for upcoming shows, shot cast and creative interviews in support of shows, filmed content for their education department and so much more.
Find out more about what we have done with them in this video testimonial…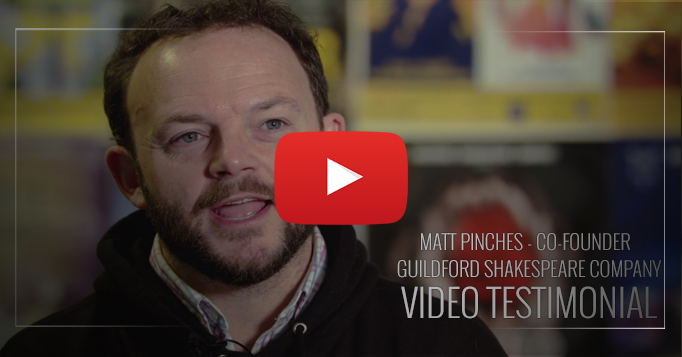 Video testimonials are an increasingly popular piece of video content – they allow you to develop a richer relationship with your clients by featuring them in your testimonial video and recognising your relationship together and, for the viewer, they enable them to see how trusted your business is and how you have benefited other clients. If video testimonial content would benefit your business then get in touch with us today about shooting some for you…