The Horsham District Mystery Trails are the brainchild of Luna and Annelees who run Whistlestop Arts! These outdoor escape room style adventures around the villages are filled with puzzles, hunts for clues, sights to see and mysteries to solve!
I worked with Luna and Annalees last year to film the video versions of their Horsham District Walking Tour podcast – this was a series of podcasts which toured you around the villages of Horsham District, looking at the well known and less well known locations in each. We spent a number of days in the summer, racking up steps on our Fitbits, getting slightly burnt as well whilst seeing new areas of the District and meeting people who live and work here.
The Mystery Trails are new for 2022 and beyond and when the ladies came to me about the need for video and told me about the trails and showed me a reference video they had seen for some London outdoor escape trails, I became frankly a little bit too excited about the possibility of what we could do here and what I wanted to make for them!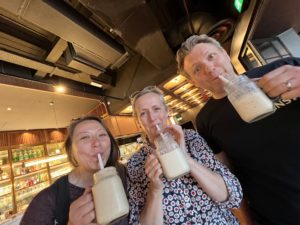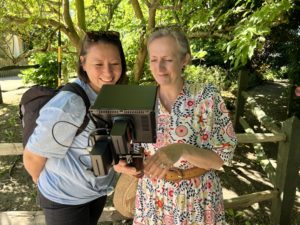 Luna and Annalees
Annalees drew a storyboard for me which was really helpful as it clearly laid out the narrative they wanted the video to tell, which set up the story of the mystery trails and Answare, the animated character who leads the Secret Seekers to solve the puzzles in the towns.
I took this and then further developed it into a series of shot ideas, to fit with the voice over script and detail the kind of camera shots I wanted to get – basically lots of movement which I felt would represent the walking / moving element of the trails, show the excitement and fun of doing them in a visual way and help generate a thrilling set of visuals for the video.
We decided which towns we wanted to film in based on where we could get to and when, on our filming days and then we started to line up our Secret Seekers to appear in the videos!
All of our cast live in the District and had little onscreen experience before but their enthusiasm, commitment and general awesomeness brought to screen the exact energy we wanted. So a massive thanks to Hannah, Sohana in Horsham, Anita, Claire, Amanda, George, Michelle and Cerys in Southwater and Rhiannon, Martine, Paul and baby Tristan (and Ruby the dog!) in Steyning and Paul and Alison in Henfield for getting involved.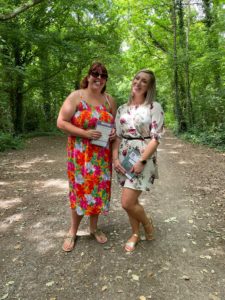 Anita and Claire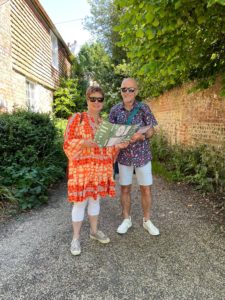 Paul and Alison

Sohana and Hannah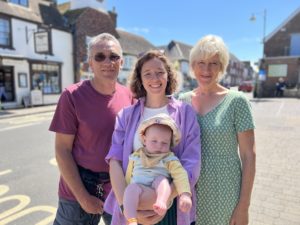 Rhiannon, Martine, Paul and baby Tristan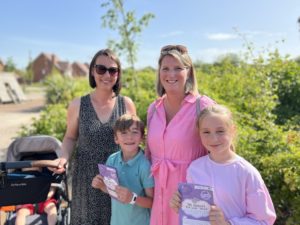 Amanda, George, Michelle and Cerys
We spent two days filming in the 4 featured towns, splitting each day in half with a town per half. Our cast met us at the arranged locations in each and we got filming underway.
Each town and cast had a number of similar shots to be captured including arriving at the Library to pick up their Mystery Trail maps, doing a number of the clues on the trail, a selection of walking/scenery shots, a shot in a cafe and a sad intro shot and a happy ending shot to fit the narrative of the video.
I worked closely with Freddie Hill on the filming days – Freddie was a great filming partner as always, brilliantly creative and tireless when it came to using a gimbal all day in the heat!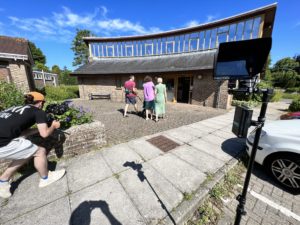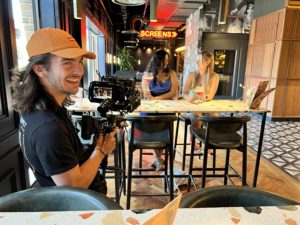 We worked together to make each shot dynamic, filled with movement from the camera and the cast to generate a sense of excitement and activity that you would get when doing the trails for real.
We also had a wireless monitor which meant I could watch what was being filmed and not need to lurk over Freddie's shoulder to do so!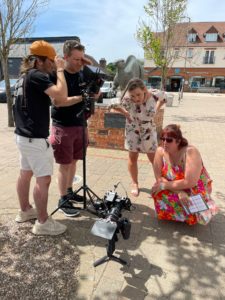 We shot a number of actions with each cast group that weren't used in the main video and then became part of the shorter town-specific edits to give them different content.
Once the edit for the main video was done, Luna's partner Miles wrote and performed a bespoke piece of music which fitted perfectly to the edit, right down to the sound effect on the clinking of glasses in one shot!
Luna then recorded a Voice Over of the script she and Annalees wrote, which was then recorded and overlaid onto the edit.
Annalees animated her hand drawn Answare character, to be waving so she could appear at the beginning of the video as well.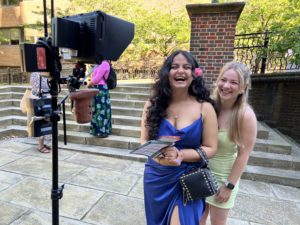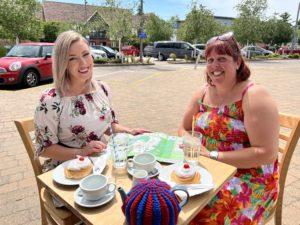 Working on this project has been absolutely brilliant, a real chance to make something creative, visually interesting and work with great people and then give it an extra layer of polish with the original music, animation and VO.
Find out more about the Mystery Trails on their website and watch the video when it's released soon…
Geoff