The ORCA OR-11 Suitcase Camera Bag is a fantastic wheeled camera bag…read on to find out more about it…
If you'd like to watch our video review of the bag, hit play below otherwise read on for the blog review…
We've had an ORCA OR-6 shoulder video bag sine we got our Blackmagic URSA Mini 4.6K camera in early 2017 and it's been a great bag. So much so, that when the opportunity to start using the ORCA OR-11 came up – we had to take it!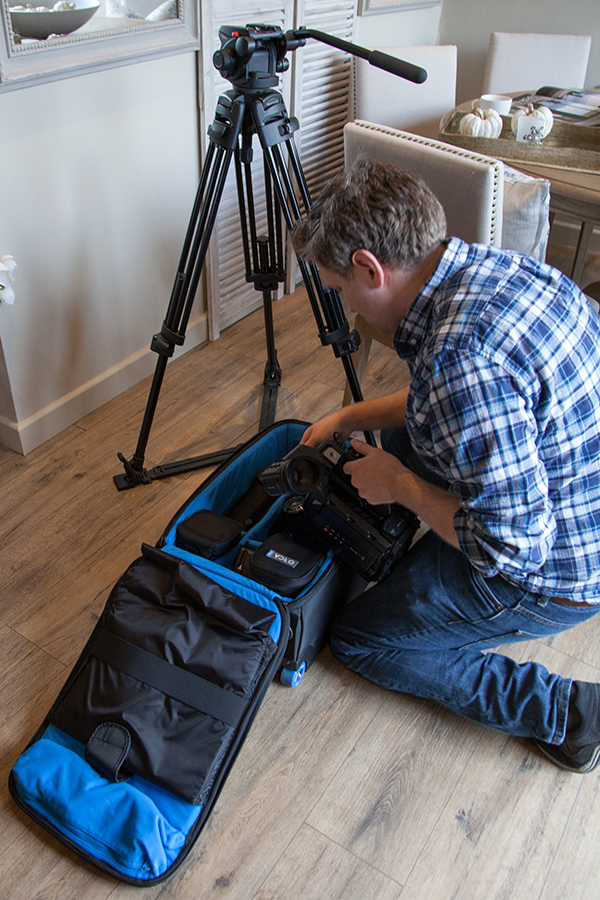 Photo by Andy Willis Photography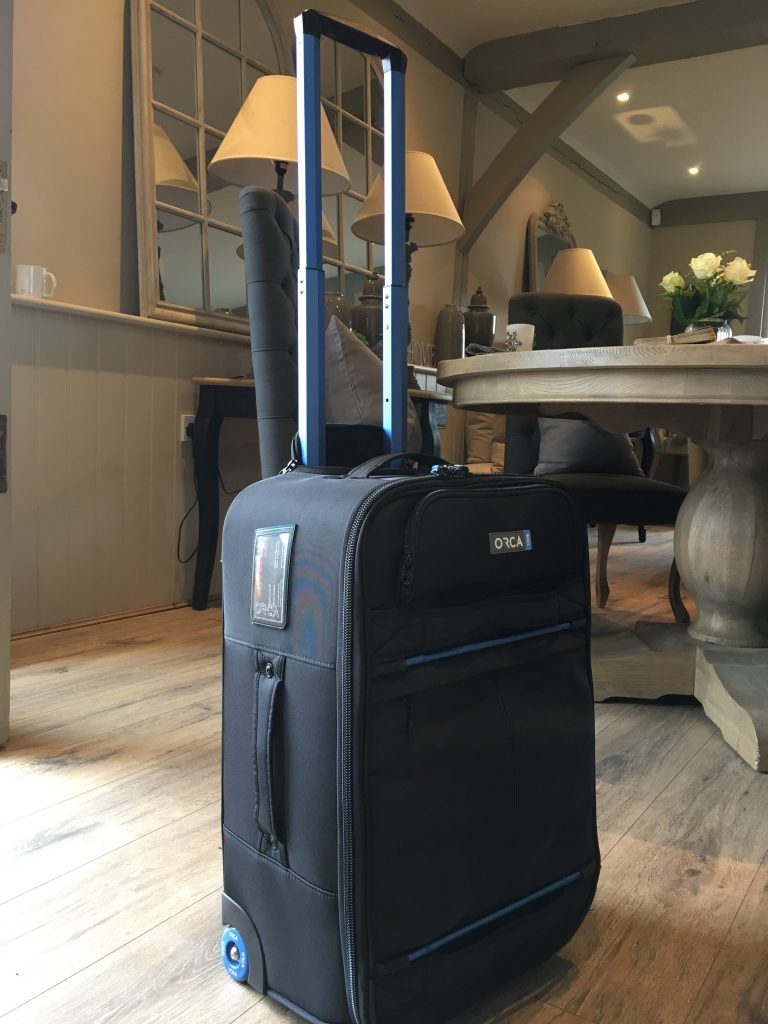 Photo by Geoff Cockwill
The bag itself is big and square bag, with plenty of room – which we love but the main selling feature of this bag, for us, is the pull up handle at the top and the wheels at the bottom. These combine to make carrying your kit incredibly easy. It's clear why this is called the suitcase bag as it is literally like carrying your camera around like you would carry your luggage around at the airport. That also explains why the bag actually meets most airline carry on size requirements, so if you are a globe trotting camera person or the next time you get the chance to go abroad, you can rest safe in the knowledge that you can take this bag with you and keep you kit away from the hold.
For us, we are always carrying expensive and heavy equipment around for our shoots and for a few of us, our backs appreciate a little break from the heavy gear from time to time, so this is the ideal way to get the kit around without physical strain. The bag is sturdy and very well protected, meaning the kit isn't lose inside and the bag isn't going to collapse around it.
The outside of the bag features an external aluminium frame for rigidity and and an internal honeycomb frame for complete protection plus additional internal layers of foam to protect your kit further. The bag features two front handles – top and bottom – plus a side and a top handle for helping to lift it in and out of cars, planes etc. There's also a large easy access front zip compartment for storing documents, user manuals, call sheets, shotlists and so on. The rear of the bag features 4 feet for when it becomes the base of the bag when laid down.
At the top of the bag is an external zipped pouch which leads to an internal pocket for storage. We have been keeping our Blackmagic power lead in here so it is easily accessible on a shoot. We recommend this area for those bits of equipment that you may need in a rush, but want to avoid the risk of leaving lying around. The internal, reverse of the lid features the pocket we keep our power lead in, accessible via the front of the bag and a padded pouch to store up to a 17" laptop.
The inside of the bag features a number of detachable velcro wall panels so that you can rearrange the interior as you need, to fit whatever camera and kit you are storing inside. As you can see below, we have our URSA Mini plus our lenses, v-lock batteries, EVF and Blackmagic shoulder mount plus our v-lock battery mains charger fits in too.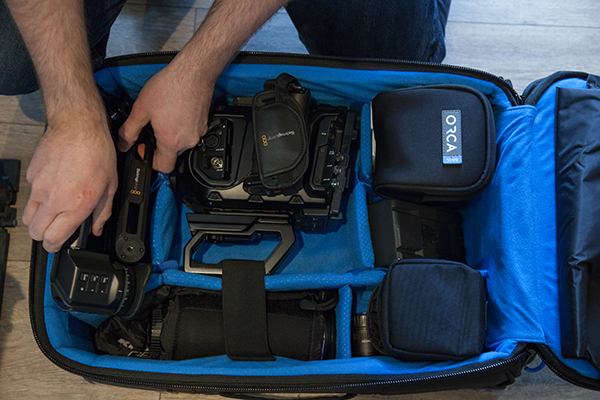 Photo by Andy Willis Photography
The bag also comes with two extra pouches – a smaller one to carry accessories and CFast cards etc and a soft padded wrap to carry lenses in. We chose to put our Canon 70-200mm lens in this as the carry case it came with proved difficult to fit in the case and keep much else inside as well.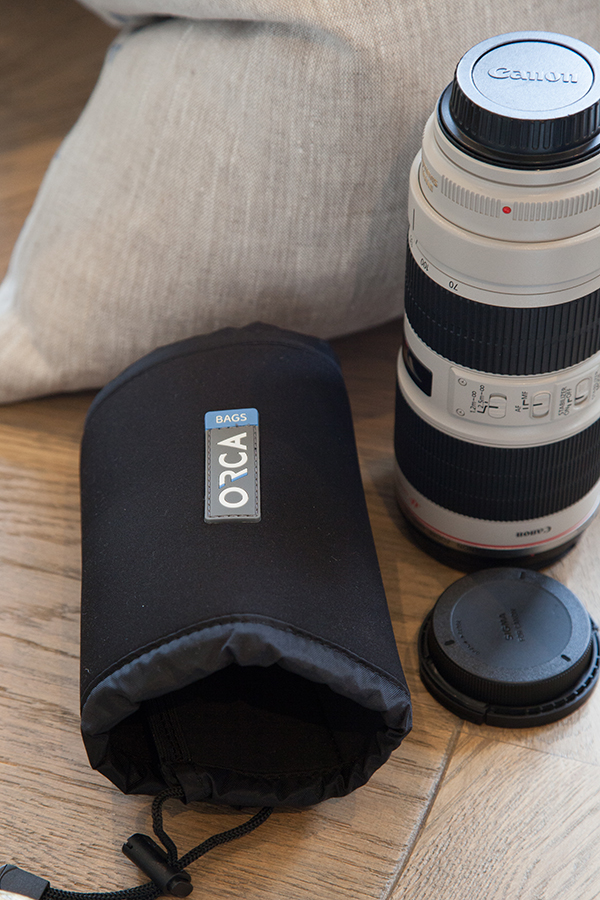 Photo by Andy Willis Photography
If we had to say anything negative about the bag it's that it could have done with being slightly deeper to allow a bit more gear to be stored inside, such as our Canon 70-200mm lens and to stand the URSA upright rather than lie it down but we get that this would probably stop it being a carry on item for an airline and these "issues" are minor and easily dealt with.
We've been really happy with this bag – it's large, portable, flexible and allows us to store a lot of gear inside it, meaning we are ready to go for most shoots with it. Plus, it's got wheels and anything to make moving kit easier and which saves our backs and shoulders gets our vote.
If you're in the market for a new camera bag, you can't do wrong taking a look at the ORCA range at www.orcabags.com