It sounds obvious but it's really important to invest time into planning your corporate video shoot from the outset…or any shoot for that matter!
Going into the shoot knowing what you want to achieve from the video in the end will result in a better video. It's great to be creative and have some flexibility on the day of the shoot but you still need to be prepared, know the plan and where you want to go with the shoot to give you the end result needed.
We work closely with our clients to develop the script, whether the video be using a voice-over, presenter, interviews or motion graphics – or a combination of any of them – to get their message across to the viewers.
As the Google AdWords adverts used to say, if you have a business, you have a story. Just like Google do, we honestly believe that every business can benefit from video and to tell their story to gain more customers and clients. As many small businesses today are people-centric and about the personalities involved – that is, the people who run and work at a business – it's important to get that front and centre in a video. After all, as good as your service, shop or product is, the people will play a large part in attracting new clients or customers.
As a general structural approach to the video, open with an intro and general overview to say who you are and what you do, then lead into more details and information to expand upon the premise of your business before ending with a Call-To-Action to inspire the viewer to follow up and get in touch.
Of course, you may not want to go for a 'traditional' approach like this and instead go with something story based and more creative, just like Motolegends did with their shop promo video!
The run-time can be as long or as short as needed but don't fill the script with masses of info and then create an audience-patience-testing video – keep it to the point and entice the viewer to delve deeper and find out more about you. We have another blog about video run-time HERE so have a read of that too.
 Still from the testimonial video interview with Sarah from Bluecoat Sports.
When we start working on the script with you, we will talk to you to find out more about your business and to work out what you want to say to the viewer. Most businesses have a number of points of information which are important and say a lot about them, so our job is to then fashion this into a natural sounding script to be delivered via interviews, presented or read as a voice over or even to come across just as text on screen.
We'll work out what you want to say, what you don't want to say and what kind of image and tone you want for the video and therefore to be representing you. Is it modern and lively with a sense of fun? Is it more traditional in its approach? Is it people based or facilities / premises based? We're here to get the best content for your video.
As an aside here, if we do a voice-over on the video, we will potentially add prominent words on screen, to reinforce what is being said and so that if someone is watching with no sound on, they can still get the message clearly. Subtitles are also something to include to help your Google ranking as they will be indexed when the video is on YouTube – no need to "burn in" the subtitles, they can be added as an overlay on YouTube and also Facebook uploads.
We will then work on a structure and flow for the script, to move from one area of importance to the next and allow the viewer the chance to take it in quickly but with enough time to gain an understanding of the different elements of the business. You want to get just enough information across that the viewer will then want to go further to find out more about what you can do for them.
The video will end with the classic Call-To-Action which should inspire the viewer to call up, email or visit you. This can be a text based sign-off, a voice-over line, a piece to camera from a presenter…or a combination of them. It should end on a high and be inviting a contact from the viewer.
For the actual shoot itself, we would plan a shot list based on the contents of the script and what we need to get on screen. If the video is featuring a presenter or a series of interviews, we would work out the best locations at your premises to shoot these for the best visuals. If we are shooting footage of staff and the building etc, we would create a list of what we want to capture and on the day, we will also work spontaneously and shoot things in the premises as and when they occur and based on what looks good on camera.
If interviews are going to form part of your video then we would work with you to develop the questions to be asked to certain people appearing on camera and also structure these in such a way that they can be used to back up what other people are saying or to cover a specific topic about your business by usage of a couple of people talking about it.
However, if your video isn't working off a script and is relying on interviews, we would use these to structure the video itself. We would have leading questions designed to help tell a story about who you are, what you do and why people should contact you etc. Soundbites from the interviewees would then appear on screen, cut together to tell the story of your business.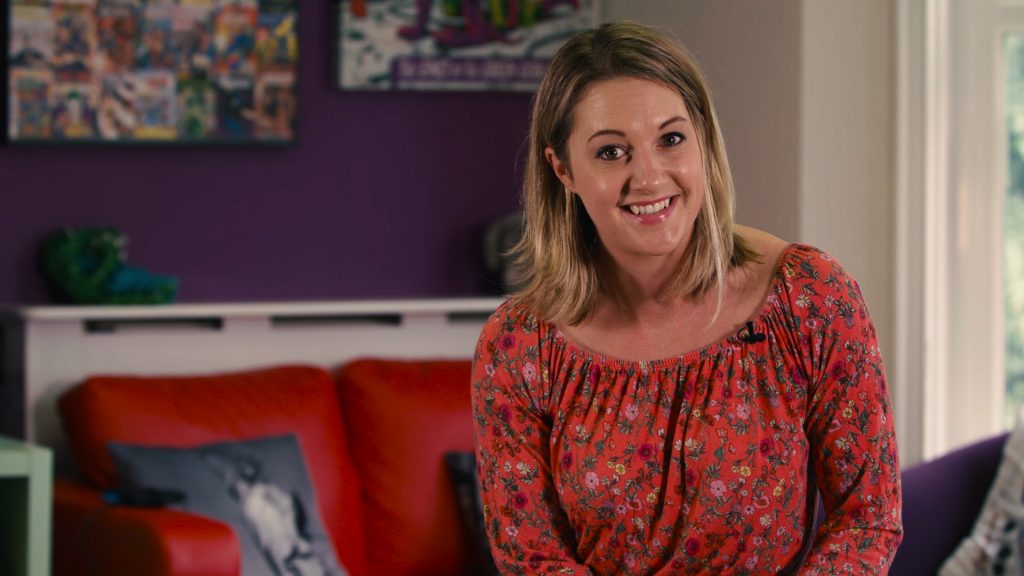 Still from the presenter-led Springboard Project charity videos.
Should you have a presenter or a voice-over or a series of subtitles on screen? This all depends in part on the business and its image and what you are selling. For example, we did a Behind the Scenes video on a music video shoot for Janet Devlin and had it presented to enable interviews to be carried out and info to be given to the viewer in a lively way. The video we produced for Concordia Air Freight though relied upon a voice-over as their business is no less client focused but relies less on personality and more on the fleet of cars, trucks and planes that they use and so a presenter was not going to be the draw into their operation.
Not used to going on camera but need to promote your business? A presenter can help be the face of your company and learn a script to get your message across. Definitely worth considering. It's worked brilliantly for us in our vlog.
Of course, just to throw a curveball at all of this…the video could be made entirely from motion graphics animations and not need people or real footage! Or the motion graphics could enhance the real footage with animations, text additions and so on. Your video could be entirely animated, using a voice over or just text and still tell the story but in a very contemporary style.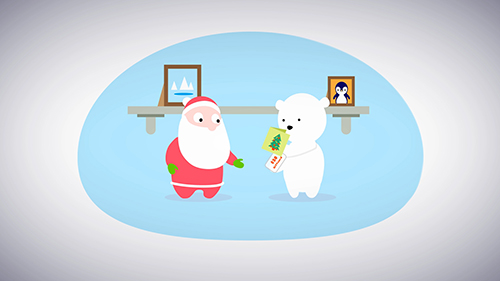 A still from the motion graphic Snomee video.
As you can see, there's quite a bit to put into consideration when planning your corporate video including your script content and the structure of the video – we're here to help you with this and develop it together, to get the best video for your business.
Get in touch and let's chat video…